Before I left the American continent, I used to think New York City was the center of the world; you couldn't blame me for thinking so. There's something magical about stepping onto the subway and not knowing what sort of hodgepodge of humanity you'll run into.
After spending a week in London–a bit more than my first time around, when I was only there for a weekend–it's safe to say that while the New York City subway remains the world's greatest living social experiment, London is on par with New York when it comes to having a representative sample of the global population living within its packed boroughs.
When exploring a city like London, I like to let my stomach do the seeing. What follows is edible proof that London is a microcosm of the world we live in.
Borough Market in London is as good a place as any to sample an array of cuisines as well as shop for locally sourced produce, imported charcuterie, fresh meats and seafood, baked bread, and more.
The energizing smell of stewed vegetables and exotic spices wafting from Kai Wot, one of many lunch stands lining the market, proved to much for me, and I munched on a box of scintillating vegetables and lentils with rice.
For something a little more on the traditional side, scones make for a proper breakfast or afternoon snack. This fluffy one was from Exmouth Coffee Company near Mile End. While I didn't get over there this time, a month ago I popped into London on a layover from Germany and was blown away by the scones at Baker and Spice; they have three locations, including one in Chelsea if you're feeling especially posh.
Back in the city center, Boxpark–so named for the shipping containers which comprise the entirety of the space–in Shoreditch features a variety of cuisines, including Korrito, a takeout joint that offers an optional burrito-style wrap with traditional Korean fillings.
Thanks to the Korean girl I dated for nearly two years in university I gained an appreciation for the rich, meaty, spicy flavors that characterize the country's food. Despite the best intentions of Korrito's owners, wrapping Korean food in tortillas seems like an insult to both Korean and Mexican traditions. I ordered my pork belly with rice and kimchi in a bowl and upheld the dignity of both cuisines.
Way up the road from Boxpark is Hackney, a neighborhood that straddles the East-West Victoria Canal. I found myself there one day, lost on a Boris Bike (that's what the locals call the bikeshare program here) and hungry after an hour of pedaling around in search of a bike station. I finally found one here, and there was a fish and chips shop waiting for me when I did.
Broadway Fish Bar serves up a typically behemoth portion of fried stuff. It's pretty hard to fuck up an order of fish and chips; one of those dishes you either get right or wrong, and in this case it was definitely right.
A bit closer to the city center is the neighborhood of Dalston; my friend Katie took me there to see a hit-and-miss script reading by a bunch of wannabee theatre artists . The show was a flop but we witnessed a motorcycle accident up close, so the night wasn't a complete waste.
We found a hole-in-the-wall Ethiopian place called Injera (the name refers to the squishy roll-up bread used to scoop up food) serving up cheap helpings of the same good stuff I tried at Borough Market, although this time a bit spicier. Between the drama of the crash and the spciy lentil misir wot, it wasn't a lost night by any measure.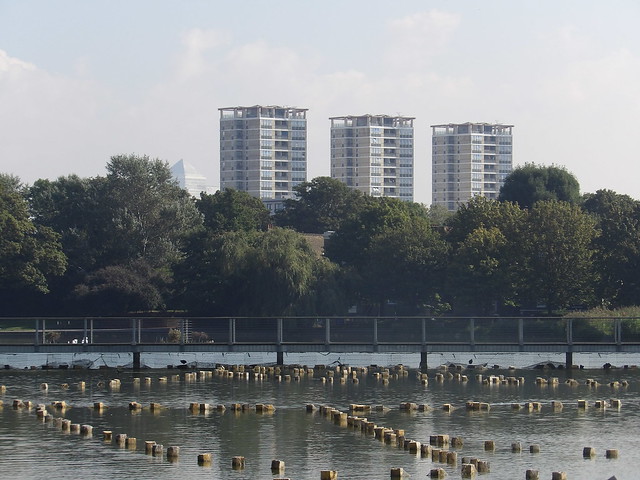 On my last day in the city I walked south to Peckham, passing through a rough part of Southwark borough before emerging onto lush Burgess Park.
Down in Peckham there's still a large swath of the neighborhood that hasn't succumbed to gentrification.
The main street is lined with Afro-Caribbean groceries, barber shops, Caribbean eateries, and fried chicken joints.
This is why I found myself eating goat curry with rice and peas–those peas were definitely beans–with a side of fried plantains and ginger beer. The name of this place is Gabby's but you'll never find a website for it. You can't give them a call because apparently they don't have a phone, but here's what their menu looks like (literally, someone posted a picture of it).
I count at least six items that I've never heard of. What's ackee? What, apart from being hard, makes hard dough bread different from any bread I've eaten before? Should I order Bulla for dessert, and is it worth upgrading to the cheese version? These are the questions that I left London asking. Maybe when I come back I'll have an answer.
To the Indian food purists who resent the omission of a single restaurant, I did go to Brick Lane, but when I did I just had a bagel. To be fair, it was pretty amazing.